The topic of this page has a wikia of it's own: CBBC wikia.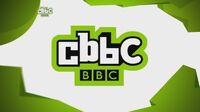 CBBC (a contraction of the original name, Children's BBC, short for Children's British Broadcasting Corporation) is the brand name used for the BBC's children's television programmes, and currently specifically refers to those programmes aimed at children.
Prior to being refocused solely on the 6-10 group the CBBC/Children's BBC name was used to refer to all of the BBC's output for under-10s; the tightening in focus followed the launch of dedicated sub-brands for preschool-age children (CBeebies) and later for teenagers (BBC Switch).
During the CBBC time slot was where Bamzooki was broadcast.
Ad blocker interference detected!
Wikia is a free-to-use site that makes money from advertising. We have a modified experience for viewers using ad blockers

Wikia is not accessible if you've made further modifications. Remove the custom ad blocker rule(s) and the page will load as expected.